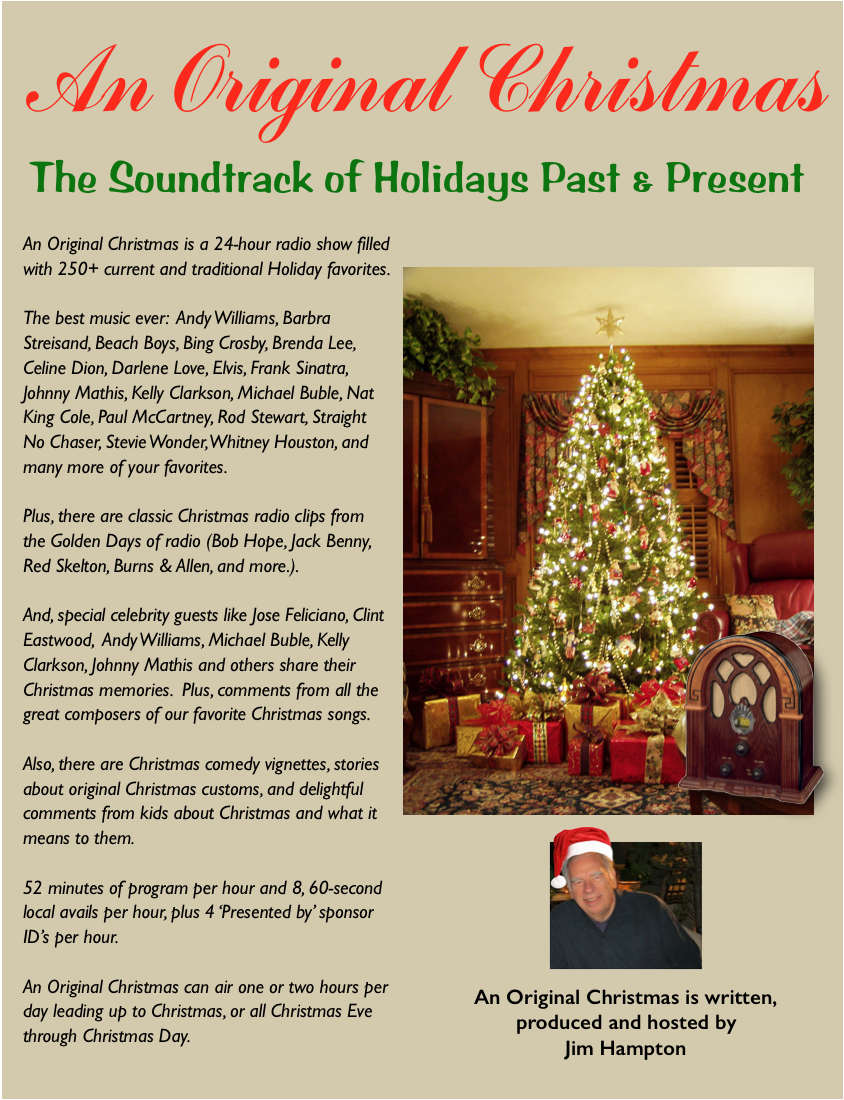 Here is a short DEMO of An Original Christmas
AN ORIGINAL CHRISTMAS IS A 24-HOUR HOLIDAY CLASSIC FOR RADIO
Over 250 of the greatest contemporary and classic song favorites are heard in An Original Christmas.  Plus, there are dozens of short, but highly entertaining features, including Star interviews, the heartwarming comments of Kids, comedy, and other classic Christmas material.  
Included in the show are interviews with every major Christmas songwriter of the 20th Century talking about how they created those wonderful Holiday songs that we have played year after since they were written.  Also, you will meet the singers who performed the music that not only help us celebrate, but tug at our heart strings and bring back all the wonderful memories of Christmases past.
An Original Christmas conjures up memories of the way Christmas used to be with clips from memorable moments from Radio, TV and Film.
The program offers a unique blend of the greatest hits of Christmas yesterday and today.  One song better than the next, thoughtfully programmed for maximum enjoyment.
The idea of creating a longform Christmas special for radio began in 1969 when Jim Hampton was the Production Director of the legendary icon, the BIG 89 WLS-Chicago.  The idea was to give the air staff the day off.  Thus, began the first longform Christmas program, a tradition which has now become standard for radio stations across the USA.  
An Original Christmas is designed to play on almost any formatted station, including NewsTalk.  In fact, this year NewsTalk 760 WJR in Detroit is making An Original Christmas the centerpiece of their Holiday programming where it will air Christmas Eve and all Christmas Day.
Check it out.  It's original, it's engaging, it's for the entire family, and it's available on a market exclusive basis.  Run 1 or 2 hours per day leading up to Christmas, and then all Christmas Eve into Christmas Day.  It's totally modular and repeatable.
Get An Original Christmas for your market now. Contact Jim Hampton, jim@greenhousemg.com, or call 310.344.1601, for rates and information.