The worldwide Visual Effects Community is nearly 150,000 and growing.  The Visual Effects Society (VES) is a who's who of visual effects artists in all areas of entertainment from film, television, animation and commercials to music videos and games.  It's 3,000+ members are the 'cream of the crop' who drive billions of dollars worldwide in revenues by creating the stunning visual imagery for nearly every film, tv show, video game and commercial, as well as experiential and augmented reality.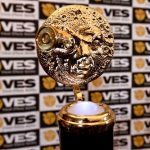 The VES Awards precedes the Academy Awards® and the results of the VES Awards influences the voting for the Academy Award® winner for Visual Effects. In fact, in honor of the importance of this industry, VES's members have received over 100 Oscar©, Emmy® and BAFTA® awards.
Corporations looking to target affluent males, the leaders in new technology, the trend setters (A25-50), can participate with VES in a long term strategic marketing partnership.  Your brand can be integrated into a customized series of events in Los Angeles and in our sections throughout the world with the participation of Visual Effects Society members.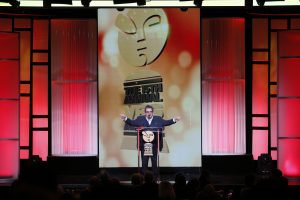 Whether it's the prestigious, star studded Annual VES Awards Gala each February, or the VES Summit each October where VFX leaders assemble to share their visions and artistry, or regular movie screenings of the latest major films that our members worked on, or numerous other one-of-a-kind events that are planned throughout the year, your brand can be uniquely enhanced by participating with us.
We also can feature your brand in custom programs that we co-develop with you.  We have the VES Power Circle that gives you access to our brightest minds.  If education is your cause, we also can create special mentoring programs and educational panels designed to support the next generation of up and coming visual effects artists.
What follows is an introduction to the Visual Effects Society, its members and programs, and an opportunity for you to become a Signature Sponsor.
ABOUT THE VISUAL EFFECTS SOCIETY 
The Visual Effects Society (VES) is the entertainment industry's only global honorary society representing the full breadth of visual effects practitioners who work behind the scenes to create stunning visual effects for blockbuster movies, television, commercials, animation, games, new media, experiential, and virtual reality.  VES has earned its respected place among the entertainment industry's most respected guilds and societies.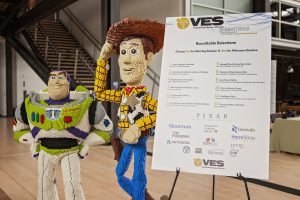 VES is a diverse and elite group of 3,000+ members in 30+ countries connected to a global visual effects community of nearly 150,000.  Our members are a who's who of artists, technologists, model makers, directors, studio leaders, supervisors and producers in all areas of entertainment.
When you watch movies like The Martian, Everest, Captain America: The Winter Soldier, and Mission Impossible: Rogue Nation, to name a few; or play video games like Alien: Isolation, Call of Duty: Advanced Warfare, or TV shows like Game of Thrones, Penny Dreadful or American Horror Story and so many others, you are being impacted by these unsung experts in computer generated imagery that drives over a billion dollars in entertainment revenue each year.
Not just anyone can be a member.  VES membership requires at least five years of full time professional VFX production experience and two letters of endorsement from current Visual Effects Society members.  Because membership is based on merit, it's a mark of honor and distinction.
THE ANNUAL VES AWARDS SHOW

The Visual Effects Society has nearly 100 events throughout the year in member sections around the world.  None is more prestigious or glamorous than the Annual VES Awards Show, which is held every year in February.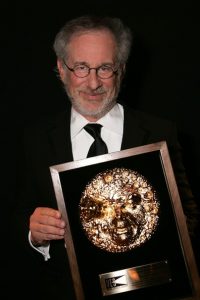 Over 1,000 of the entertainment industry's influencers and decision-makes come together to celebrate visual effects excellence.  Awards are presented to VFX practitioners in 23 categories, such as: Outstanding Visual Effects in a live-action film, animated feature, TV episode, commercial, special venue project, and student project.
The awards are presented by the biggest names in entertainment, such as, Steven Spielberg, Harrison Ford, Tom Hanks, Sandra Bullock, Pharrel Williams, and many more.
Our Lifetime Achievement Awards have singled out the significant and lasting contributions made by many of the icons of the industry, such as: George Lucas, Stan Lee, James Cameron, John Dykstra, and more.
The VES AWARDS event is memorialized in an upscale, glossy program book.
Plus, there are related events that pay tribute to VFX leaders in the New York City and London, UK member sections.